Out of Hours service relocation works – August-September
Current Works

Thursday 28th July 2022
Out of Hours service relocation work will be carried out at SIMTA's Moorebank Intermodal Terminal worksite from Monday 8 August 2022.
SIMTA contractor, BMD Constructions will be relocating and installing utilities alongside and under Moorebank Avenue, Anzac Road and Bapaume Road as part of the Moorebank Intermodal Terminal development.
Work will take place on Anzac Road, Bapaume Road and Moorebank Avenue between the M5 motorway and Piccolo Me Café: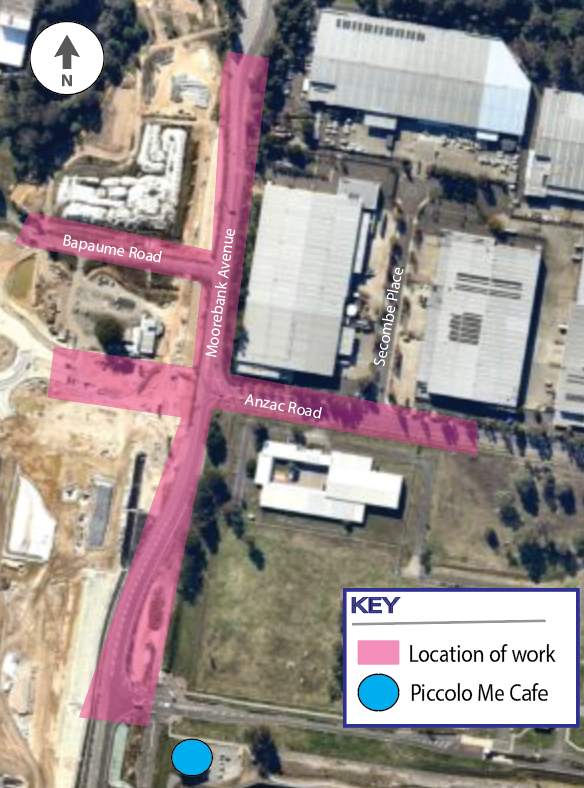 Utility works are scheduled on weeknights (Monday to Friday) from Monday 8 August to Friday 9 September 2022, weather permitting.
Night work hours are from 8pm to 5am. This work has been scheduled outside of regular construction hours to minimise the impact to road users.
Work will also be undertaken to remove electrical poles on Sunday 28 August between 7am and 6pm near the Moorebank Road and Anzac Road intersection and Bapaume Road, weather permitting.
How this may affect you:
Noise
This work may create additional background noise.
Work will involve saw cutting, excavating and carrying out remedial asphalt works. We will use light vehicles, pole truck, under bore machine, tippers, lighting towers and vacuum truck to complete the work. Our work is not expected to impact the nearby properties in Wattle Grove and Casula.
We apologise for any inconvenience this may cause and thank you for your patience during this essential work.
Traffic
Moorebank Avenue, Bapaume Road and Anzac Road will remain open at all times.
Construction hours
Regular construction hours are between 7am and 6pm Monday to Friday, Saturday between 8am and 1pm.
Contact us
We appreciate your co-operation while these important works are undertaken.
If you have any questions or to report any concerns, please call 1800 986 465 (24/7) or email moorebank@tsamgt.com.